Over the past 10 days I have read two non-fiction books about individuals with an addiction. Silver Screen Fiend: learning about life from an addiction to film is a memoir by Patton Oswald. Mr. Oswald is an author, actor, and stand up comedian.
Between 1995 and 1999, the author spent most of his nights in a dark theater watching classic films and the occasional new release. He watched every genre; horror, romance, comedy, suspense, and adventure. When he wasn't absorbing film, convinced it would help him to become a great director some day, he was honing his stand up comedy in comedy clubs, coffee houses, bookstores and wherever else they would let him onstage.
"It took me a few years, though-and a lot of nights at the Largo (a comedy club) and a lot more nights in movie theater seats-before I learned that just because something was "indie" and "underground" didn't automatically give it value. I also had to learn to look for the moments of substance and impact in the everyday."
Finally, after four years of spending half of his life in the dark watching others live on film he experiences two things which "pull the needle out of my cinephilia, for good. They peel me forever from the projector sprockets." In recovery his "love of watching movies has turned into a love of savoring them. And the flirtation with becoming a filmmaker abides, and has stayed fun." His advice to others who share his fascination with film is to "take what you need from them and get out of the dark once in awhile."
The second work of non-fiction is I Don't Care If We Never Get Back: 30 games in 30 days on the best worst baseball road trip ever. The authors and masochists who subject themselves to this ordeal are Ben Blatt, a sports analytic genius and lover of baseball, and his friend, Eric Brewster. Their friendship, health, and sanity are all under siege as they race across the country in an effort to see every pitch of 30 games in all 30 baseball parks. The adventure begins in Yankee Stadium and "exactly 29 days, 20 hours and 22 minutes" they witness the final pitch in the 30th game. It was the 8,913th pitch they had seen. They drove more than 22,000 miles, received five speeding tickets, suffered sleep deprivation, Ben ate 30 ballpark hot dogs, and Eric collected 30 foam "We're #1 Foam Fingers". Every day they sit in a ballpark, sometimes two in a day, for 3 plus hours and then sit side by side in the car as they drive 7, 12, 15, even 20 hours to the next park.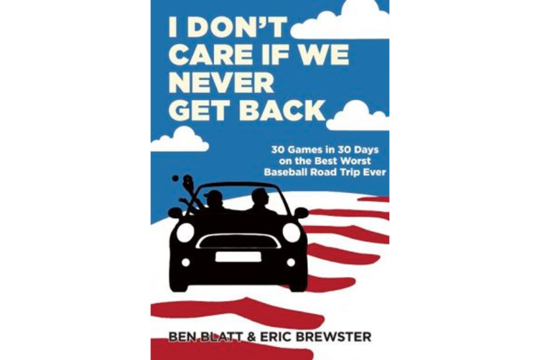 The story becomes a nail biting suspense thriller as flat tires, rain delays, extra inning games, faulty alarm clocks, traffic jams, street parades, side trips to the home of the Little League World Series (twice) and Canada Day all threaten to keep them from arriving at games for the first pitch. At its core this is a story about friendship and fanship and the limits and strength of both. "Eric hated every day of it, the 15 hour drives past the Grand Canyon......the mad dashes to witness a first pitch while not caring in the least who was pitching and who it was being pitched at. Eric hated the trip's fundamental premise, the quantity over any semblance of quality, the snapshot we-were-here mentality that left no time to read the inscriptions on the monuments with which we posed. But he was here. Every day he was here."
Both of these books took me deep into worlds that I had only dipped my toes in before. Sure, I've sat in darkened movie houses and attended baseball games but I would not want to follow any of the authors into their obsession-addictions but in a way, I guess I did.