At 7:30 am it looked like it had rained a little during the night and would soon begin again. Therefore, I delayed breakfast and hopped on the bicycle for a ride around the neighborhood. As mentioned in an earlier post, it is a bit rusty but rides ok. The neighborhood is a great one for the bike as it is mostly level and the only traffic are folks who live here and most of them are thoughtful of walkers and bike riders.
After breakfast I visited our local library picking up a few books and reading today's newspaper. I also read the latest edition of "Rolling Stone". It contained a great interview and article about the actor, Danny DeVito. What a character!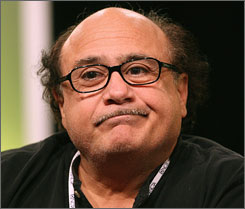 Speaking of characters, this edition also ranks all those who have been cast members on
Saturday Night Live
over the last four decades. Of course, number one was the talented and funny John Belushi.
I took a wonderful rainy afternoon nap and then the rain let up enough for Mary and I to walk around the neighborhood.
Supper was BBQ chicken sandwiches which I made by pulling chicken off of a supermarket rotisserie chicken and then heating up the shredded chicken with "Sticky Fingers" BBQ sauce. This particular sauce is "Carolina Style" which is mustard based and delicious.
Yesterday I joined the site "Goodreads" and this evening began to understand how to use it as a tool to organize my reading and books.