The state of Virginia has been using the motto, Virginia is for Lovers, for 37 years. We discovered on a recent trip that Virginia is a place for people who love history, airplanes, and good food. Mary and I celebrated my 61st birthday on Saturday, March 25th, by running away from home. We took an early morning flight that got us into Dulles International airport before 8 am. After a delicious breakfast at the IHOP we made our way to The National Air and Space Museum's Steven F. Udvar-Hazy Center.
What an awesome museum housed in a aviation hanger that is 10 stories high and the length of three football fields. The planes displayed include the B-29 Superfortress Enola Gray, the Air France Concorde, and the Lockheed SR-71 Blackbird. Also on display is the Space Shuttle Enterprise along with various rockets telling the story of space exploration. We spent a fascinating three hours wandering through the hanger and experiencing an IMAX movie that put us in the cockpit of an F15-Eagle.

Our next stop was an Arts and Crafts Festival that was in a building almost as big as the Air and Space museum. Hundreds of artisans displayed their creative products that included photography, quilts, woodwork, hand crafted furniture, jewelry, paintings, and hand woven baskets. It was like being in a very eclectic gallery for over two hours. Now exhausted we checked into our hotel and took naps. In the evening we had supper at The Potbelly Sandwich Works where we had old fashioned milkshakes and delicious sandwiches while listening to acoustic guitar played by a fella sitting in the loft above our heads. Check out their
web site
to find a Potbelly near you. We concluded my "birthday" day by seeing a movie at an enormous theatre in Fairfax. (Why is everything so large in Virginia?) The movie was the new Spike Lee film, Inside Man, starring Denzel Washington and Jodie Foster. This is the first "commercial" film that Spike Lee has made and it has many of his unique trademarks. Denzel gives a very laid back performance that brings a lightness and humor to what is a very intense story. It was a fine ending to a very busy and exciting day.
The next day we treated ourselves to the Sunday Brunch Buffet at the Blue Iguana
in Fairfax. Omelets made to order, fresh sliced turkey and roast beef, waffles, fresh fruit, seafood pasta, and more. So elegant and so good. Then we were off to George Washington's home, Mount Vernon.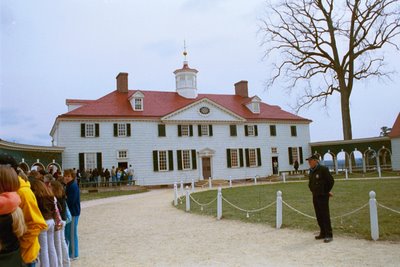 American history came alive as we stood on the very floor that Washington stood on when he received news that he would be the first president of the United States. Even more significant, for me, was to stand next to the chair that he sat in when he decided to give up the presidency so that it would not turn into a monarchy. Thank God for the vision and courage of this man and his colleagues. It was a great trip and a lovely way to celebrate a birthday.